Saturday, October 4th

twig the wonderkid, michael t, and harley sears and special guests
spin fist-pumping rock 'n' roll, punk anthems, and glittery glam-rock
with a star-studded evening of live performances
hosted by
georgie seville [motherf*cker]
and
keanan duffty [slinky vagabond]
sexy go-go dancers jessie lee and apathy
late-night cabaret by the love show
11pm tba
10pm the swedes
photos by indierotica

$10 / $7 rsvp at glamdammitnyc
21+, valid ID to enter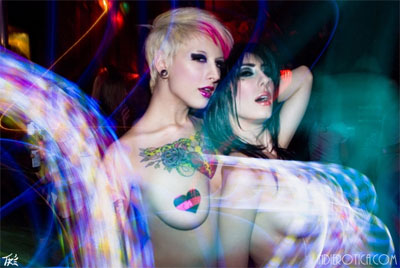 Jesse Lee & Apathy
Czech Street Festival Concert/After Party
featuring
A LIVE PERFORMANCE by
ANNA K.
MUSIC by DJ MICHAEL BURIAN
ANNA K.
One of the Czech Republics most successful Artists. Nominated for Czech Grammy Awards 5 years in a row. She has won Czech Grammy Awards - Singer of the year, Song of the year.
DJ Michael Burian
Michael Burian is one of the best known Artists of the modern music scene in Czech Republic. Michael is recognized worldwide not only as a great DJ, but also as Producer, Label CEO and a Promoter. He has won "Best DJ of the Year" several times in Czech Republic. In early 2008 Michael was the first Czech DJ invited to the Winter Music Conference in Miami.
Entrance rules: 21 & over with photo ID
Under 21 must be accompanied by a legal guardian
Organized by the Czech Center New York
Doors @ 5:00 PM
For all info regarding this show please contact
Nicki Camp nickicamp@hotmail.com